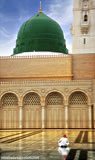 Bismillahir Rahmanir Rahim
[And as for thee] O Prophet-behold,
We have sent you as a witness [to the truth],
and as a bringer of good news and a warner.
And as a summoner to Allah by His permission,
and as a light giving lamp.{33 : 45-46}
Prophet Muhammad (sallal-lahu 'alayhi wa sallam) :
The Light Giving Lamp : Siraj un-Munir
12th Annual Mawlidu-n-Nabi & ISRA Convention
Friday-Sunday May 22-24, 2009 (Memorial Day Weekend)
The Triangle Area,  North Carolina
There were enlightening spiritual Discourses on :
The Immense values, praises and honors accorded to the Prophet by Allah (swt).
The obligation to believe, obey, follow his sunnah and Love him.
His great character , virtues and Seerah
The Un paralleled miracles accorded to Him by Allah (swt).
Great intellectual discussion panels about :
The crisis of misunderstanding Islam : Defending the belief and practice of
ahlus sunnah
Global Strategies for the revival of Ihsaanic Vision of Islam and the role of ISRA
The young and the restless : Opportunities and challenges for Muslim youth in
America
The keys to a successful Marriage in Islam
Other Highlights:
Recitation of Qur'an
Qira'at competition
Hamd-Na'at-Qasidah
Zikr / Salawaat / Nashid
Bazaar
A video of Shaykh Rashid's dars is available at the CG Video Channel.
Or listen to the audio:
The Healing Light of The Prophet Muhammad (saws)
Audio clip: Adobe Flash Player (version 9 or above) is required to play this audio clip. Download the latest version here. You also need to have JavaScript enabled in your browser.
Or read the dars: pdf
Sponsored by:  ISRA- International Islamic Studies and Research Association