Shaykh Ahmed Abdur Rashid addresses the question, "What?" in the first talk of the Tasawwuf  Now Five Sundays series (2011 -2012). The following are excerpts from this suhbat.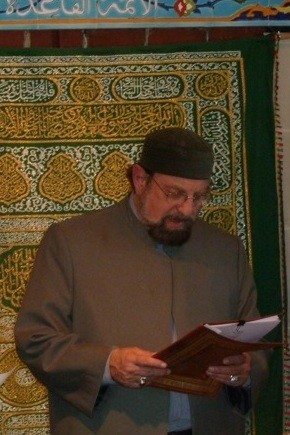 Shaykh Rashid says, "To understand the question "what?" is important as it establishes the foundation for the many questions that follow, questions like: Who seeks to enter the Path of Sufism? Why would one pursue a path? When is it appropriate to seek guidance? and, Where does one turn to find the answers to the pressing questions of life.  These and a myriad of other questions relating to practices, relationships, behavior…all begin with the question of "What"."
What is the Role of Questioning?
Shaykh Rashid  replies and cites several examples. "If we turn to Qur'an, we see it is filled with questions for its readers (and also with answers).  Allah is constantly in a dialogue with us, through the questions and words of the Qur'an."
"O you who believe! What is the matter with you, that when you are called to go forth in the Way of Allah you cling heavily to the earth? Are you pleased with the life of this world rather than the Hereafter?  What is the enjoyment of the life of the world [compared] to the Final Life, save a little?" (Qur'an 9:38)
Shaykh Rashid responds with,  "Since none of us have ever seen the Final Life, how can we answer this question? And yet, Allah is asking us, modeling for us a mode of thought, of reflection and contemplations, of looking beyond the surface into the deeper meanings. "
What? is the Meaning of Life?
By way of explanation Shaykh Rashid  said in part, "Long before we were born we knew the answer, when we were asked, "Am I not your Lord?" Belief is imprinted on every human soul because Allah took all the souls ever to be born and brought them before Him and asked a question and our soul made this covenant to worship and serve Allah (Subhaanahu wa ta'aalaa)." He expounds further on this question  and then asks:
What does it mean to Worship?
"Answers to these questions come from a deeper place, from our desire to understand.  Indeed, it is these questions that first hint at inwardly wanting to fulfill our role in the ammanaat.  How do we stay with this consciousness and develop it to the point that it becomes our essential core purpose, our default? To develop this is to develop our ability to worship, 'ibaadah. Certainly, we know that Allah (Subhaanahu wa ta'aalaa) is not in need of our worship… If not a single being in the universe worshiped Allah, it would not diminish Allah in any way.  If all humankind worshiped Allah, it would not increase Allah in any way.  He alone exists without any needs."
What are the different types or stages of worship?
Shaykh Rashid speaks on three of the types of worship. He describes the first level of worshiping out of  "fear of Hell or desire for Paradise…..such  an individual has not yet developed the understanding that worship is in itself beneficial and that its benefits accrue to the one who worships with sincerity…."
The second kind of worship is worship in which "we are turning to Allah, as part of a pattern of regular remembrance…with an open and pure heart, with humility and gratitude."
It is the foundation for the third type of worship that is done "for the sake of Allah, for the sake of love, for the sake of patience….it is to worship with love in your heart; to be inclined toward Allah, to be attracted toward remembering Him, and to have no objective other than to gain His good pleasure."
Shaykh Rashid continues in suhbat expounding on the following questions: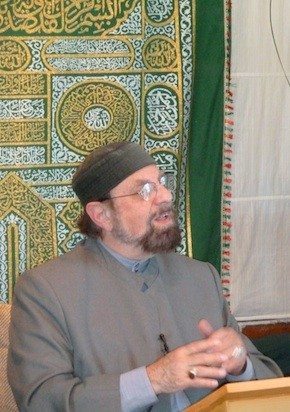 What is the first step on the Path?
He replies, "We begin with the simplest and most repeated command of Allah: to remember him", and he continued in speaking about rememberance and the result of regular rememberance.
"Remember Me and I will remember you; thank Me and reject Me not."(Qur'an 2:152)
In the remainder of this discourse Shaykh Rashid unfolds meaning on the following "What" questions:
What is Sufism/ The Path?
What is the Role of the Student and Teacher on The Path?
What are the Barriers to Learning?
Conclusion: Hearing the Answers
In his concluding remarks, Shaykh Rashid reminds us of a Sufi story.
"I began today with speaking about the human urge to question.  In conclusion, I want to say something about answers.  A student may think that just because they can ask the question, they are also ready for the answer, but this is not always the case.  There is an analogy given by our predecessors in the Naqshbandi tradition of a person who was gifted a pomegranate.  When he received this gift he had just finished a full meal, so instead of eating it right away, he kept the pomegranate until his stomach was ready and in a condition to digest it correctly.    He respected the pomegranate.  He knew that the pomegranate had certain characteristics and qualities to it.   If eaten under the wrong conditions, not ripe or at the wrong time of day even, it could cause upset in the stomach.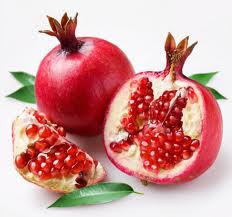 If there is something wrong with your stomach when you eat the pomegranate, it will make your stomach worse.  Often, our inclination is to eat the pomegranate as soon as you have it in your hand.  And of course, this is what happens also with students. The assumption is if it's there, if I can read about it, if I can gather in a group with it, if I can hear the shaykh talk about it, if  I watch other people do it, then it's okay for me to do it, which is not true.   If you watch someone else taking their medicine and you take a handful of their pills it will not be good for you.   Similarly, the shuyukh continually provide ways for us to gain knowledge, at the right time and place, and some of it is to be stored for a later time.
…The person who has the most of that knowledge  stored up, and who understands that subtlety of distribution is our shaykh, the shuyukh.  Ultimately, we must remember that it is Allah who provides.  It is Allah who provides the question and the answer, the ingredients and the ability to use them."
"The Prophet (salla-Llaahu 'alayhi was salaam) said, "The heart of the slave is between the two fingers of the Merciful." Allah is the Provider, and He alone can make you oblivious to the pain of the struggle and the distractions.  He alone can increase our desire to walk on the path.  Only Allah can help us turn away from the things other than Him."
Join us at the next talk in the Tasawwuf Now series. In the meantime, we invite you to read, listen or view the first talk in the series: "
What?

"  May you benefit from the blessings therein.

Download and read the Pdf file of the transcript.

Listen to the audio file:

Audio clip: Adobe Flash Player (version 9 or above) is required to play this audio clip. Download the latest version here. You also need to have JavaScript enabled in your browser.

Watch the video: