The Great Ones – 7 Sundays Suhbat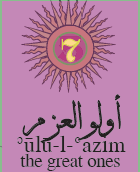 Join us at the Islamic Study Center on May 19th,  10:30 – 5:30, for the next session titled "The Prophet Isa," in the 7 Sunday 2012-2013 lecture series focusing on the Ulul al-Azim, The Great Ones. Future talk will be on the Prophet Mohammed (sallallahu alaihi wasallam).
Shaykh Ahmed Abdur Rashid and Shaykh Nooruddeen Durkee  will give suhbat, along with  guest presentation by  Imam Papa Mboup,  at the  Islamic Study Center, 108 10th Street, Charlottesville, VA.
Can't make it to Charlottesville? Watch the talk on our live webcast!
The previous talks in this series by Shaykh Rashid are now available on our Video Channel
Schedule:
10:30 – 11:00 am: Social Hour
11:00 – 11:15 am: Qira and Na'at
11:15 – 12:30 pm: Discourse by Shaykh Nooruddeen Durkee
12:30 – 1:20 pm: Lunch
1:20 – 1:50 pm: Salat ul Dhuhr
1:50 – 2:00 pm: Qira and Nasheed
2:00 – 3:15 pm: Discourse by Imam Papa Mboup
3:15 – 3:25 pm: Nasheed and Na'at
 3:25 – 4:40 pm: Discourse by Shaykh Ahmed Abdur Rashid
4:40 – 4:50 pm: Salaat-o-Salaam and Dua'a
 5:00 pm: Salat ul Asr
Also, Qira, Qur'aan and Na'at. Breakfast, Lunch and High Tea will be offered. Good food and good friends.
(No charge: Free will offerings accepted)