Fourth in the series of Five Sundays on Tasawwuf (2009-2010) presented in Charlottesville on Feb 28th, both Shaykh Ahmed Abdur Rashid and Shaykh Nooruddeen Durkee continue speaking in this  series  of talks which addresses the role of the Shaykh as spiritual guide  and the responsibility of the student or murid. This suhbat focuses on Tarbiyya, Training the Murid in Tasawwuf.
Listen to Shaykh Ahmed Abdur Rashid's talk of "Tarbiyya or The Education of the Murid"
Audio clip: Adobe Flash Player (version 9 or above) is required to play this audio clip. Download the latest version here. You also need to have JavaScript enabled in your browser.
Or view the video or  download the pdf.
View Shaykh Nooruddeen's talk on Tarbiyya at the CG Video Channel (videos 15-24).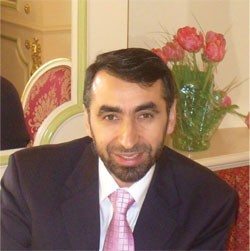 Guest Speaker: Imam Mohamad Bashar Arafat is the founder and president of Civilizations Exchange and Cooperation Foundation (CECF). He attended Damascus University and graduated with a degree in Islamic Studies, Arabic Language and Islamic Law. He studied Quranic interpretation, wisdom of the "Shari'ah" and Islamic spiritualilty under the guidance of late Grand Mufti of Syria, Sheikh Ahmad Kuftaro.  He served as Imam in Damascus and Imam of the Islamic Society of Baltimore.
View Imam Bashar's talk on the CG Video Channel (videos 7-13).