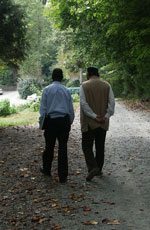 My Dear Friends, Students, brothers and sisters: Asalaamu alaykum wa Rahmatullahe wa Barakatuh
This years Ramadan Retreat was designed, insh'Allah to focus on the great blessings of the month of Ramadan as a means to grasp the subtleties of perception (ayn ul Lataif) available to the sincere and devoted seeker of understanding Reality and oneself; and the signs of Behavior (Akhlaq) that indicate that an individual is utilizing the subtle organs of perception in their daily life.
This year I asked seekers to travel with me between the Alam ul Amr and the Alam ul Khalaq; to pass through the corridor of the Alam ul Mithal (majaz) through a unique and proven method of muraqabah (meditation), Dhikr ul Allah, Recitation of al Qur'an and the transformative experience of Sohbet (being in good company and under the sway of an authorized Shaykh).
It was my niyyah (intention) that participants taste and begin to grasp the inner meaning of Islam, of Tasawwuf by the Tajalli of Allah swt.  As we walked together through the beautiful lights on the path to the Masjid in the company of fellow seekers, I hope and pray that we lived fully in the metaphor of the light of Allah and the Prophet (salallahu alehi wa Salim) awake and aware with "eyes that see and ears that hear".
Ramadan at the Khanaqah of the World Community is the prelude to a year of remembrance of the blessing of this life, service to all people…all the children of Hazrat Adam (as), devotion to Allah and striving for better and better character.  It is the renewal (tajdid) of our faith and hopefully a reminder of our responsibility as the Khalifa's of the Amanat that Allah granted us.
I wish to thank everyone who joined us for the last weekend of Ramadan, especially Dr. Sulayman Nyang, and Brother Ibrahim Hakim, who both gave beautiful talks.  We move forward with a new beginning of awareness of the Blessings of this Life.
Ma s salaam,
Shaykh Ahmed abdu r Rashid,
Khanaqah at the World Community
View all the talks of the retreat at our CG Video Channel
or listen to the audio of all the talks:
Ramadan Retreat: Shaykh Rashid – Akhlaq: Achieving and Sustaining a Noble Character
Audio clip: Adobe Flash Player (version 9 or above) is required to play this audio clip. Download the latest version here. You also need to have JavaScript enabled in your browser.
Ramadan Retreat: Dr. Sulayman Nyang – "Muslim Movement from Footnote to Main Text"
Audio clip: Adobe Flash Player (version 9 or above) is required to play this audio clip. Download the latest version here. You also need to have JavaScript enabled in your browser.
Ramadan Retreat: Ibrahim Hakim's Tafsir of Iskandari's "Hikam" on the Subject of Suhbat
Audio clip: Adobe Flash Player (version 9 or above) is required to play this audio clip. Download the latest version here. You also need to have JavaScript enabled in your browser.
or read the Shaykh's dars: pdf