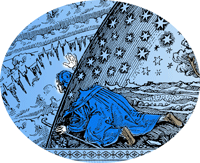 This series of Sunday talks called "Strangers"  focuses on the Rijalu-l-Ghayb, travelers on the path of Truth. Shaykh Ahmed Abdur Rashid's  engaging talks reveal profound insights and intuitive understandings regarding the unseen world.  The gathering was held at the Islamic Study Center in Charlottesville, VA.

Al Khidr: Keeping the Company of Those who See – We say that the knowledge of all things, the known and the unknown, belongs to Allah. At the same time, He has established that there are those to whom special knowledge is given: faithful believers, messengers, saints, shuyukh. We have to choose to be of those guided to that knowledge. We have to remember that this is a choice to be made every moment of the day – eventually; continuously and constantly – to remember to remember.
Salman Farsi (raa): The Guide and the Guided – We are speaking today about what brought Salman Al Farsi (as) from a village near Isfahan, deep in the Persian Empire, to the top of the date palm in Medina to hear the news of Rasuulu-Llaah (sal) and from there to become one of Rasuulu-Llaah's (sal) most trusted companions and advisors, and from there a teacher of the tabaceen.
Nasir Khusrow- The Persian -Now we meet another traveler on the path of truth: Nasir Khosrow, and spend a day with him and his journey, his poetry and teachings. He affirms the value of seeking until one finds, of being a true and determined believer.
This series was available live on the Circle Group webcast.